Please help the Big Cat Sanctuary Alliance (BCSA) protect and care for captive wild cats
Click to Donate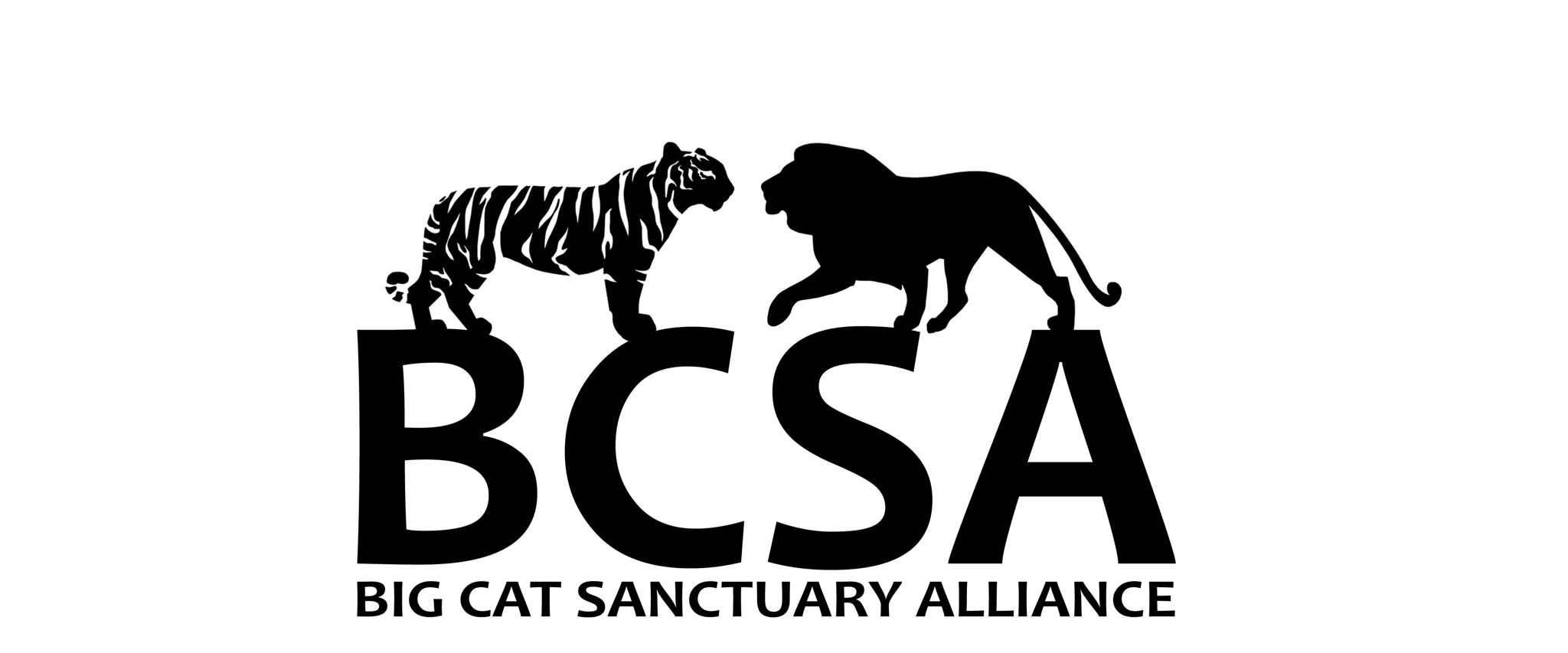 The Big Cat Sanctuary Alliance (BCSA) was established in 2017 after four years of joint consultations. BCSA's membership is currently comprised of 16 sanctuaries and 8 partner organizations whose shared mission is to eliminate the private ownership and commercial exploitation of big cats in the United States. Together, we speak with one voice on matters affecting big cats, including cub petting and breeding, the exotic pet trade, use of big cats for entertainment, and other areas of concern. Beyond our outreach and advocacy, all of our member entities provide necessary direct care to animals with complex social, psychological and biological needs, and we thus support the professional development of our member organizations, enabling them to network and further raise the quality of life for all the wild cats within their care.
The Big Cat Sanctuary Alliance works to eliminate exploitation of big cats and supports members in providing quality lifetime care for wild cats in captivity. BCSA works towards the day when sanctuaries are no longer needed because exploitation of wild cats has been eliminated.
Your donation directly supports our programs and helps us to advance our mission of increasing the standards of care for big cats in sanctuaries and ending the exploitation of big cats.
From time to time, we like to acknowledge our donors in publications for our members and supporters, such as our eNewsletter, to show our appreciation for your support. If you would rather remain anonymous, please indicate so in the "Donation Message" field. Thank you!
Donate via Credit Card or eCheck
Big Cat Sanctuary Alliance FAQ
Is my donation tax deductible?
Yes, we are a fiscally sponsored project of Community Initiatives, which is a public 501c3 organization recognized by the IRS. Your donation is tax-deductible to the fullest extent permissible by law.
WeDidIt FAQ
Is my donation and credit card info secure?
Yes, the security and confidentiality of your information is our highest priority. We will not sell, trade or share your personal information with anyone else, nor send donor mailings on behalf of other organizations, and we will only share personal information if you have given us specific permission to do so.
How do I know that my donation was made successfully?
You will receive an emailed receipt immediately after your donation is submitted and your credit card is processed. Your donation will also show up on your bank or card statement within 1-3 business days.
Do I get a receipt?
Yes, a receipt is sent to your email inbox once your donation is processed. Please be sure to keep a copy of your receipt for tax purposes. If you select a recurring donation, you will be sent an individual receipt each period when your donation is processed.
Is my donation private?
We will not share or sell a donor's personal information with anyone else, nor send donor mailings on behalf of other organizations.